On Saturday, January, 5 at Invicta FC 4: "Esparza vs. Hyatt" at Memorial Hall in Kansas City, Kansas, in the main event of the evening,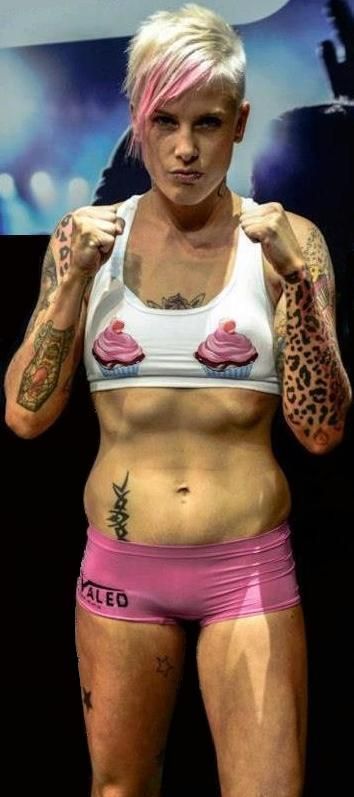 #5 ranked 115 pound fighter Carla "Cookie Monster" Esparza (8-2-0) will take on #26 ranked 115 pound fighter Bec "Rowdy" Hyatt for the 115-pound Invicta FC Strawweight Championship.
Carla is a 5'1 twenty-five year old fighter from Redondo Beach, California where she trains at Team Oyama where she is coached by Colin Oyama and Giva Sanatana (BJJ) Her main training partner is uncle creepy himself Ian McCall.

Carla is coming into this fight on a roll as she has just mowed down her competition. She is on a three fight winning streak and in this humble mans opinion, should have got the win against Jessica Aguilar in their battle on June, 25th at Bellator 46, a match that Carla lost by split-decision.
She started her career in February of 2010 winning her first three fights all by finishes in only a five month span. One of those finishes was a rear-naked choke victory over Lacey Schuckman. On August, 12 2010 Carla stepped up to face Undefeated MMA legend Megumi Fujii on short notice.She was very competitive in the first round and a half even taking Megumi down but it was not to be as the legend slapped on one of her patented come out of nowhere armbars submitting Carla in the second round.
She then went on from that lesson and won her next two fights including a very close decision victory over Nina Ansaroff and a .first round rear-naked choke victory over Yadira Anzudala.
Next came her return to Bellator on June, 25th 2011 where she would lose a controversial match to #1 ranked 115-pound fighter Jessica Aguilar, I fight that I personally scored in Carla's favor even though it was in Jessica's home state.
Next for Carla was her now best buddy #7 ranked 115 pound fighter Felice Herrig who she easily controlled on the ground with vicious ground and pound witch caused a large hematoma to form above Felice's eye. Carla easily won all three rounds on the judges card for a unanimous decision.
On July, 28th at Invicta FC 2 Carla again won in dominant fashion this time defeating Sarah Schneider by TKO due to ground and pound.in the second round of their fight.
On the very next Invicta event on October, 6th she took on #17 ranked 115 pound fighter Lynn Alvarez who she promptly took care of in the first round of their fight with ground and pound for her second TKO victory in a row.

Bec is a 5'6 twenty-three year old fighter from Brisbane, Australia. She trains at Impact MMA.

Bec is coming off a four fight win streak that has seen her compete against four opponents with a combined record of (0-5) She has never defeated a fighter with a win on thier record. The only loss of her career came against Rhiannon Thompson (3-0) who defeated her by head kick knockout.

Although She has never faced anyone in the cage with a victory, Bec makes up for it with her great personality. She is one of the most popular fighters in the world because of her interaction with fans through Twitter and Facebook. Other fighters can take a lesson from her and Ronda Rousey on how to market themselves.
This match will be the main event and the two fighters will be fighting for the inaugural Invicta FC 115 pound Strawweight championship of the World.
You can watch Invicta FC on pay-per view for $7.95 at 6pm CST at
Invictafc.com
Photos courtesy of Esther Lin & Invicta FC