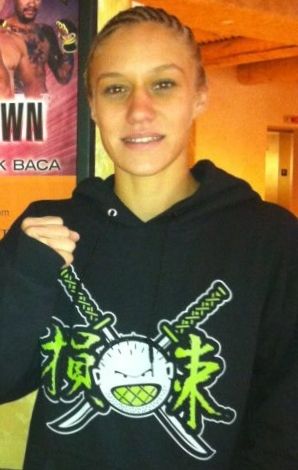 On Saturday January, 26 at King of the Cage: "Curtain Call" at Riverwind Casino in Norman, Oklahoma
#30 ranked 115-pound fighter Amber "Bully" Brown (2-0-0) defeated Abby Higginbotham (0-1-0) by TKO (due to ground and pound) in the first round of their 115-pound professional MMA match.

Amber is 5'3 twenty-four year old fighter from Albuquerque, New Mexico. She trains at Fighters In Training-No Holds Barred (FIT-NHB) where she is coached by Arlene Sanchez Vaughn, & her husband Tom Vaughn. Her wrestling coach is Jon Judy.

I asked Amber how long she had been training for and what got her started in MMA, here is her answer, "I have only been training MMA for just about ten months now, have no amateur experience. I started out with boxing then decided to give MMA a try and happen to love it. I had already went pro boxing so I had to start out professional, my first boxing match was September 2010. I Had been training about a year or so and just started going originally to get in shape after the birth of my daughter."