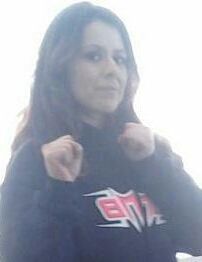 On Saturday January, 12 2013 at 559 Fights 9 at Old Creek Mill in Bakersfield, California.

Veronica Luna (1-0-0) defeated Cerise Sanchez (1-1-0) by split decision in their 145-pound amateur MMA match.

Veronica is a 5'3 thirty-four year old fighter and mother of teenagers who trains at Bakersfeild MMA and Boxing under the father/son team of Oscar Martinez Sr. (boxing, head trainer) and Paul Gonzales (wrestling) and Fernando Arriola (jujitsu).

I asked Veronica what got her started in MMA and this was her answer, "I have always liked the sport and wanted to try it. Then I realized I can hang with the boys. There are no other females at my gym. I'm the only female and amateur fighter."