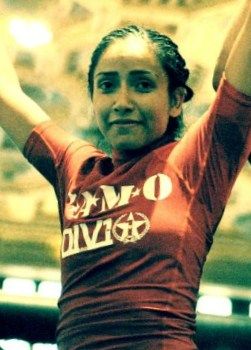 On Saturday January, 19 2013 at Art of War: "Game Face, Respect the Game" at The Chicken Ranch Casino in Jamestown, California.
#2 ranked 115-pound fighter Mercedez Campos 5-0-0) defeated Serina Soto (2-1-0) by submission (armbar) in the second round of their 115-pound amateur MMA Championship match.

Mercedez is a 5'1 fighter from Sacramento, California. She trains at Oakdale MMA with Last Stand Fight Team where she is coached by Professor Tom Theofanopoulos, Bill Theofanopoulos, Justin Smitley, Rolando Velasco, Michael Gall and Michael McDonald.

I asked Mercedez when she first started training and what made her begin to train in MMA, here is her answer, "I first started in Boxing for about three months while I was in high school but it started to interfere with my grades so I stopped going. Once I was in college I wanted to start training again but Boxing wasn't enough for me. My step dad knew a guy that trained at a MMA gym that was close to my school so I went and I loved it so I stayed there for a little while. But I went to cross train at a gym in Oakdale, the first time I went there I fell in love with the gym an I wanted to train there so I talked to the coach and I've been training in Oakdale ever since. But the reason I started training in fighting in the first place was because I wanted to do a sport my brothers would be interested in watching lol."