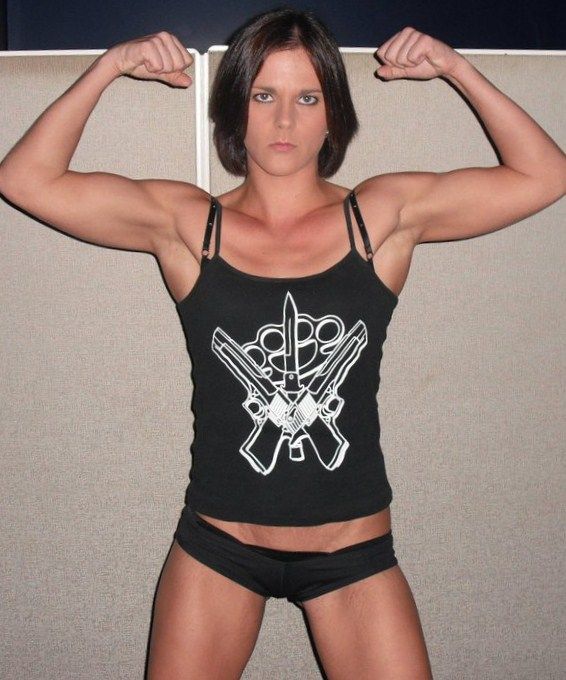 On Saturday January, 5 at Head Bangers MMA: "Warriors at War 2" at Proball Training Academy in Hilton, Michigan
Sara Vankammen (2-1-0) defeated Kayla Miller (0-1-0) by submission (standing guillotine) in the second round of their 115-pound amateur Championship match.
Sara is a 5'3 twenty-seven year old fighter from Muskegon, Michigan where she trains at Patino's Martial Arts and Triumph MMA. She is trained by her boyfriend Aaron Cook.
Sara is coming off the first loss of her career against top ranked 115-pound fighter Rachael Smith in November of 2011.
The other win on her record came in August of 2011 in her MMA debut when she defeated Alyssa Rose.
I asked Sara what got her started in MMA, this was her answer, "When amateur MMA first started to have events in Muskegon at Holiday Inn I worked there in the banquet department and was working the events. I started to get to know some of the fighters and the Promoter and learned they were looking for female fighters because there just weren't any. I grew up with four younger brothers and I was the only girl, we were all pretty close in age and they were all bigger than me! lol They all wrestled but mom never let me. My 21 year old brother Steven Vankammen had recently died of cancer and I needed a new hobby or out let . Something to keep me busy and work hard at. I have always enjoyed working out and being fit and I decided to start doing some research on where to train. I started training seriously and I fell in love! I enjoy the training and the challenge of the fight. I have learned so much in the last few years and am very grateful to all of my trainers and teammates at all the gyms I have trained at."
To see the fight video click read more below.