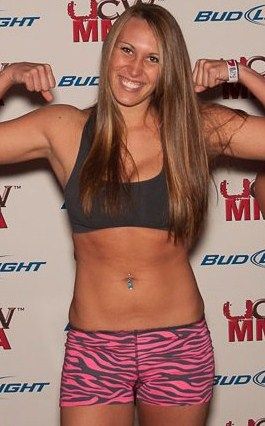 On Saturday January, 12 2013 at Logan Cunningham's "Combat MMA" at The Spirit Bank Event Center in Bixby, Oklahoma.
Autumn Lamle (1-1-0) defeated Keelan Rybacki (0-1-0) by TKO (due to GNP) in the first round of their 150-pound amateur MMA match.
Autumn is a 5'10 twenty-two year old fighter originally from Cache, Oklahoma and now living and training out of Bolivar, Missouri at Triton Fight Center under Piet Wilhelm and Summer Krause-Wilhelm.
In her amateur debut in November of 2012 she was defeated by Krystal McGuire
I asked Autumn how she got started in MMA and this was her answer, "I started boxing at Bad Boys gym in Lawton, Oklahoma fall of 2010 with plans to someday participate in MMA. I had to stop because of college softball but once my senior season was over in spring of 2012 I joined a few of my friends who trained at Triton for Brazilian jiu-jitsu. And now I am where I am and I absolutely love it."
To see the fight video click read more below.