On Saturday January, 5 At Invicta Fighting Championship 4: "Esparza vs. Hyatt" at Memorial Hall in Kansas City, Kansas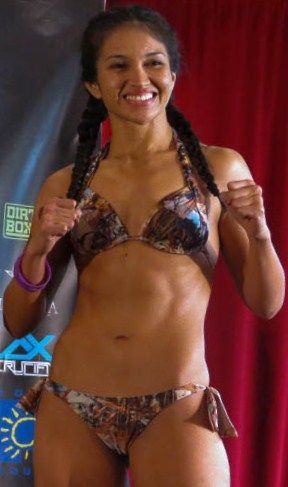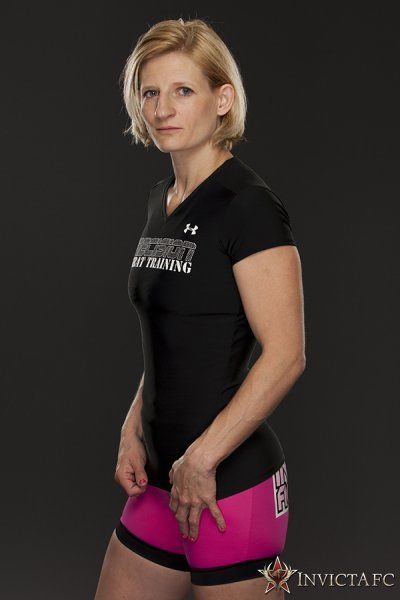 #7 ranked 105 pound fighter Stephanie "Macaquinha" Frausto (4-4-0) will take on #19 ranked 105 pound fighter Cassie "Sassy" Rodish (3-3-0) in a 105 pound professional MMA match.
Stephanie is a 5'2 twenty two year old fighter originally from Madera, California and now training and living in Cincinnati, Ohio with Team Jorge Gurgel where she is coached by Jorge Gurgel, John Buckley, Mike Ferguson, John Stutzman and Jason Butcher. She also trains with her sister, Bellator 115 pound Champion Zoila Gurgel.
This was what Stephanie said when I asked her what got her started in MMA, "When was 18 years old and senior in high school my sister came home one day and said she was going to start boxing. Soccer just wasn't enough contact for her anymore. That sounded okay to me but I wasn't really interested in just boxing. Later on she showed me a video of two women fighting. It was Chris Cyborg vs Shayna Baszler. Chris was wearing a pink Thai skirt And every time she threw a punch or kick, it would sway back-and-forth. I had no idea that women were in mixed martial arts then. I had agreed to go with my sister into a mostly Muay Thai gym the next day. My first time in the gym wasn't very pleasant. I felt super awkward trying to throw kicks and punches on the bag. It hurt so much because my body wasn't use to the Impact. We were also throwing high kicks and shadowboxing. I was so horrible but I tried my best. The coach kept yelling out "higher kick higher!" In his Filipino accent. I fell straight on my face. I was super embarrassed but no one laughed... on the outside. I started training mixed martial arts partly for myself but mostly because I wanted to spend time with my older sister Zoila. She had helped me to lose weight as a kid, so we had become very close."
Stephanie is currently riding a two fight win streak over very high ranked competition, including her upset victory at Invicta FC 3 vs. Amy Davis who she defeated in the first round by guillotine choke.
Before that big win, on May, 12th Stephanie began her win streak by defeating Diana Rael by first round armbar.
Things have not always been this promising for Stephanie, before moving to the 105 pound division for her fight against Diana, Stephanie fought at 115 pounds where she was not as successful as she has been of late.
She lost three fights in a row including losses to Ashley Cummins by unanimous decision, Paulina Ramirez by split decision and Lisa Ellis by first round rear-naked choke at Bellator 22 in June of 2010.
The first two victories of her career came against Elaine Garza (0-1) by TKO due to elbows, Elaine would never fight again and against Erica Madrid (0-2) in her MMA debut in January of 2010.
The first loss of her career would come against Trisha Pinon (1-0) on March, 7 2010. Trisha has yet to enter the cage again since her win against Stephanie. She also has a loss vs Paulina Ramirez (2-0) who despite being undefeated has yet to return to the cage since her fight with Stephanie on September, 9 2010.
Stephanie began training with team Gurgel before the Ashley Cummins fight and she has become a whole different fighter than he was early in her career and her move to the 105 pound division has also helped her to maximize her talents in the cage.
Cassie is a 5'1 thirty two year old fighter from Des Moines, Iowa. She trains at Des Moines Jiu Jitsu where she is coached by Doug Owens (Head Jiu Jitsu coach), Donovan Carboney (stand up coach) and Ryan Freeman (Wrestling) She also trains at Crossfit515.
Here are Cassie's words on why she started in MMA, "My story isn't extremely glamorous. I was looking to lose weight after my girls were born. So I tried a 10 week kickboxing bootcamp. with in a few weeks the instructor notice that I had potential and invited me to a Muay Thai gym that he also instructed and fought out of. I was hooked from the first practice. I thrive off of the challenges that come with MMA. Couldn't imaging not being part of this amazing community."
Cassie's career has been similar to that of Stephanie, she too is on a winning streak, three wins in a row, a streak that began in September of 2011 when she defeated Mariah Johnson (0-5) by TKO due to punches in the first round of their fight. She would next step up as a late replacement at Invicta FC 1 and defeat Meghan Wright (1-4) by first round guillotine choke. Her most recent win came against Summer Artherton (0-1) who was making her pro debut at 115 pounds, Cassie would go on to defeat her by second round rear-naked choke.
Before the three fight win streak Cassie experienced three straight losses to open up her career. The first loss would come in January of 2010 when she would fall to Katy Klinefelter (1-0) the former boxer who has yet to enter the cage again since the near death accident of her sister Emily Klinefelter.
She would also go on to lose to Michele Gutierrez (3-3) by unanimous decision and Margarita Chavez (1-0) by split decision. Margarita has not returned to the cage since their April 2011 bout.
Part of the reason for the current success of Cassie has been her move down to 105 pounds. She had fought as high as 130 pounds in some of her losses.
The combined records of all of Stephanie's opponents is (28-19) while the combined record of all of Cassie's opponents is (6-13) Although they have similar records there is a significant difference in the level of competition the two have faced.
you can watch Invicta FC on pay-per view for $7.95 at 6pm CST at
Invictafc.com